The Regional Center for Next Generation Manufacturing (RCNGM) addresses the need for highly skilled workers in the manufacturing workplace by constructing programs that provide resources to educators and students interested in learning new technologies in manufacturing. Click here for more information.
---
Please "Like" (friend) the College of Technology's
Regional Center for Next Generation Manufacturing on Facebook
Please review some of the upcoming events, as well as some of the past events, sponsored, at least in part, by the Regional Center for Next Generation Manufacturing (RCNGM).





Manufacture Your Future Expo

Date: Friday, April 5, 2013
Location: Platt Technical High School, Milford, CT

Featuring: Housatonic Community College

Local high school students meeting Connecticut manufacturers.


Engineering Challenge for the 21st Century Program's - Summer Teachers' Dissemination Workshop 2013

Dates: July 14, 2013 - July 20, 2013
Location: U.S. Coast Guard Academy, New London, CT

Program Applications:
Word Link or PDF Link

For additional information please send e-mail to: tech.event21@gmail.com
The International Honor Society for Professions in Technology is holding its induction ceremony at
Manchester Community College
April 12, 2013.

Epsilon Pi Tau
Induction Ceremony


Epsilon Pi Tau a premier academic and professional honors group, recognizes the academic excellence of students in fields devoted to the study of technology and the preparation of practitioners for the technology professions. Epsilon Pi Tau also recognizes outstanding practitioners in the technology professions, scholars with exemplary research interests in technology in society and/or persons who have significantly supported or advanced technology professions.

If you would like to apply for membership, please follow this link:

Application for Membership
| | |
| --- | --- |
| Listen to CBIA Business Minutes with COT-RCNGM Executive Director Dr. Karen Wosczyna-Birch | A survey of Connecticut's Manufacturing Workforce has been compiled and is available for review by clicking Survey Results |
Join the Connecticut College of Technology's (CCOT) Virtual Collaboratory. This collaboratory is an online research environment in which CCOT faculty and staff can communicate to collaborate and conduct research to improve curriculum and available programs. Participants need a password to log in.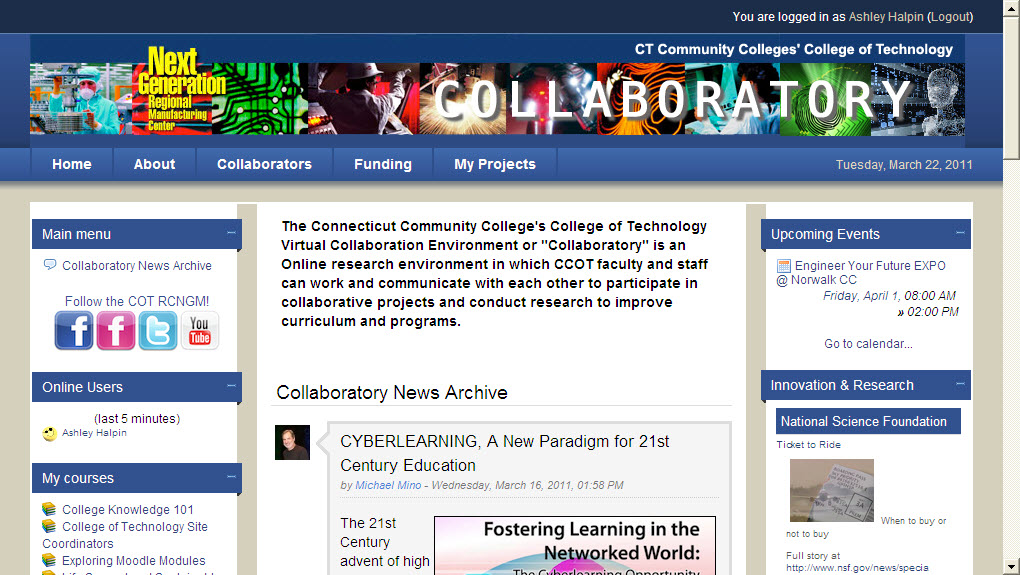 MANUFACTURE YOUR FUTURE VIDEOS


See what young professionals in manufacturing have to say about it.

NEW! Teacher's Guide Kit
(download)
Manufacturing: It's Not What You Think!
Explore high-paying careers in clean, high-tech manufacturing.
There's a great future in Connecticut manufacturing for young people like you. Manufacturing is not your grandfather's factory job anymore.....manufacturing is super clean and high-tech! Exciting jobs in manufacturing are in hot demand. Manufacturing jobs in Connecticut pay an average of $52,000 a year plus great benefits! Here's why you should consider a career in Connecticut manufacturing.
View our Media Campaign

---
Please "Like" (friend) the College of Technology's
Regional Center for Next Generation Manufacturing on Facebook